DEEP SPACES exhibit
I made a work for Larkin Van Horn's DEEP SPACES traveling exhibit, entries needed to be 18″ wide by 45″ high, without exception and exact. I was very happy to learn that it is included in this excellent show of fiber works, both art quilts and vessels. All the details of seeing it in person and purchasing the CD are here….read on!
Deep Spaces
A Textile and Mixed Media Exhibit
Curator Larkin Jean Van Horn selected the theme "Deep Spaces" following a conversation with friends about the limits of space and the photography from the Hubble telescope. While it was clear that textile art dealing with the cosmos would be an appealing exhibit, the title implied so much more. Artists interested in participating in the exhibit were encouraged to interpret the theme in any manner that suited them, and the entries were outstanding. The artists went deep into space, deep underground, deep under water, deep into the woods, canyons and prairies, and deep into the mysteries of the heart. Each artist worked in her own style, whether photorealism or pure abstraction or something in between. Holding all this wide variety together is a common size (18 inches wide by 45 inches long).
The task of choosing the fifty pieces in the exhibit from the hundred-plus submitted fell to Larkin and two other highly experienced textile artists, Debra Calkins and Anne Niles Davenport. For one of the venues (Latimer), Larkin also invited several artist friends to create three-dimensional works for an existing display case. In the final total, we have 58 works from 19 states and two international entries.
In line with Larkin's desire to do good in the world wherever possible, a catalog has been created for this exhibit, and will be for sale in disk format, either at the exhibit venues or from the Deep Spaces website: http://www.deep-spaces.com, or in book form from Blurb: http://www.blurb.com. (A direct link will be available on deep-spaces.com when it is ready.) All proceeds from the sale of the catalogs will go to Doctors Without Borders
---
Dates and venues:
September 5 to November 6, 2011
Latimer Quilt and Textile Center
2105 Wilson River Loop Road – Tillamook, Oregon
http://latimerquiltandtextile.com/
Opening Reception: Sept. 11, 2011, Noon to 4:00 pm
28 textile art and 8 special 3D pieces
October 20 to November 30, 2011
Edmonds Conference Center
201 Fourth Ave. N. – Edmonds, Washington
http://www.edmondsconferencecenter.com/
ArtsCrush Opening: Oct. 20, 2011, 5:00 to 8:00 pm
Art Walk Opening: Nov. 17, 2011, 5:00 to 8:00 pm
22 textile art
January 10 to March 12, 2012
Sam Houston University Museum
19th St and Avenue N, Huntsville, Texas
http://www.shsu.edu/~smm_www/GenInfo/
Opening Reception: January 19, 2012, 5:30 to 7:30 pm
March 28 to June 24, 2012
LaConner Quilt and Textile Museum
700 Second Street, La Conner, Washington
http://www.laconnerquilts.com/
Opening Reception: March 31, 2012, 2:00 to 4:00 pm
Due to the limits of space, 28 of the fifty pieces, plus eight 3D pieces will be shown at the Latimer while the remaining 22 will hang in Edmonds. The full fifty pieces will be shown at the other venues.
My work is entitled DANTE'S BASSO LOCO.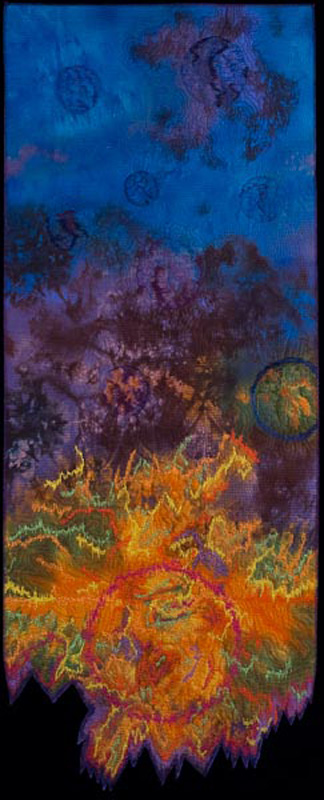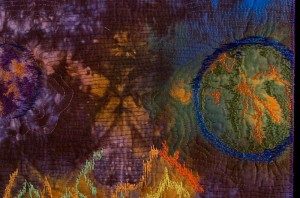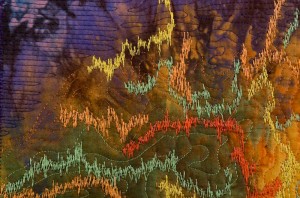 The CD is stunning and well worth purchasing for your collection of art quilts and fiber art. It is also a good cause. Many thanks to Larkin and Van for once again pulling off a FABULOUS event!